Freelance cartoonist for hire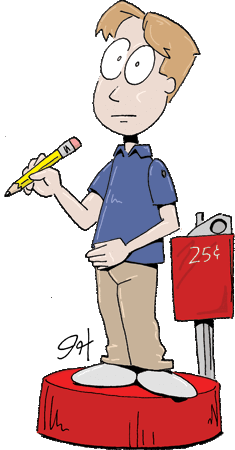 What is the first thing in your newspaper's Op-Ed section you read? If you are like most people, you read the editorial cartoon. And why not? Cartoons break up the monotony of all that text. And they cut through the complexity of a topic with simplicity and humor.
These are a few of the freelance cartoon services Jim offers:
Business cartoons make your media stand out - custom cartoons for brochures, newsletters, presentations.
Personalized cartoons make great gifts for your family or friends. Jim's done personalized comic strips, caricatures, and even a WWII Navy squadron patch.
Cartoon illustrations for publication - Jim has illustrated for children's books, newspapers, online publications.
Jim Huber is a nationally published political cartoonist with cartoons that have appeared in National Review magazine.
Jim's current professional cartooning work extends beyond his political cartoon. He has drawn cartoons for various political, private, and commercial clients.